Customer's often call us here at Crystal Clear Pool, Spa & Electrical and ask us a simple question: which pool cleaner is right for me? To answer this, we've put together a simple guide to ensure you pick the best pool cleaner for your pool. Before we can make a proper product recommendation to our customers we often ask them a few simple questions to determine which cleaner would suit them best. In this article, you'll read about the different pool cleaner types and the pros and cons of each. After, you'll answer a few basic questions that will help you determine which pool cleaner is the best for you. Here are the three basic pool cleaner types:
Suction Side Pool Cleaners – [$600 – $1000]
Suction-side cleaners attach to the suction line of your pool's plumbing system. They clean using suction power to pull debris from the floor and walls. The unit then picks up and deposits this debris and passes it through to your skimmer and pool filtration system. Pros: Lower cost Great for smaller to medium sized pools Less moving parts Cons: Causes additional wear and tear on your pool pump Continuous use of your pool pump to clean your pool More taxing on your pool filter system.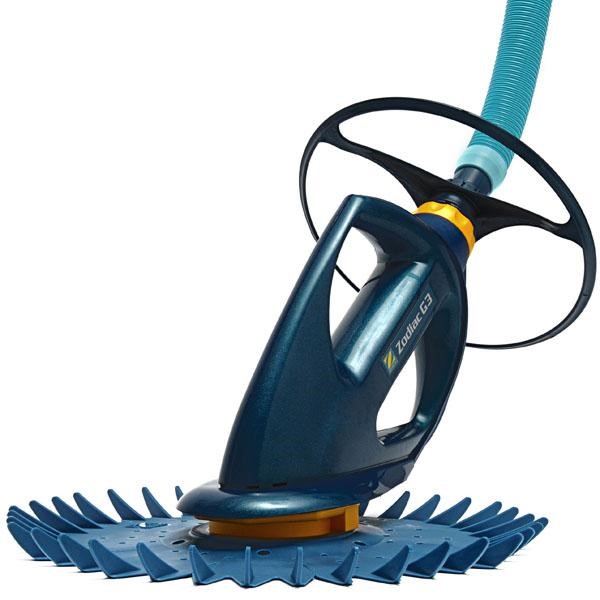 Pressure Side Pool Cleaners – [$1000 – $1500]
Pressure side cleaners use water pressure from a dedicated booster pump and/or pool pump to drive the cleaner around your pool and force debris into a filter bag where it can be collected and easily removed. Pros: Less pool filter and pump maintenance Great for medium to large pools Many available replacement parts Cons: Often requires a second pump or booster pump.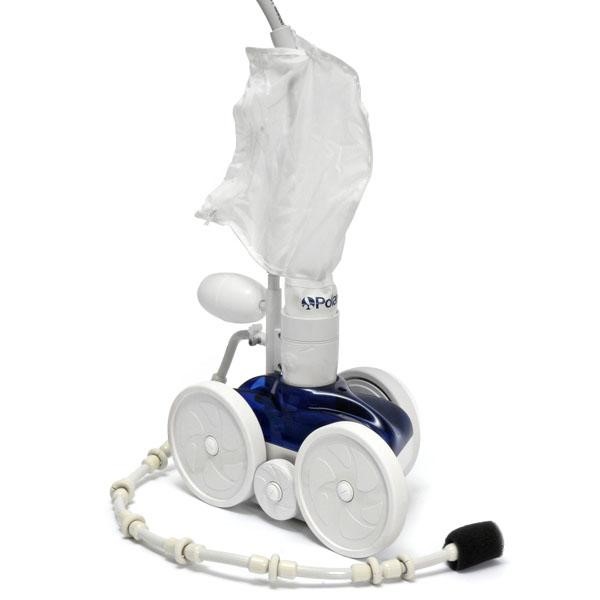 Robotic Pool Cleaners [$1600 – $5000]
The most popular choice and most recommended cleaners are Robotic Pool Cleaners. These cleaners have a self-contained filtration system that doesn't put any additional wear on your existing pool equipment. Another benefit of owning a robotic cleaner is the ease of use. Just plug-in the cleaner's control unit into an outlet, submerge the cleaner underwater, press the power button, and let the cleaner do the rest! Hate cleaning those filthy pool walls? Most high end models will even clean them for you. They clean using suction power to pull debris from the floor and walls. The unit then picks up and deposits this debris in a self-contained filter. The debris does not move through your skimmer or pool filtration system (which reduces the frequency of cleaning your pool filter).   Pros: Better cleaning & filtration Energy efficient Operates quietly Longer warranties Remotes and storage caddy's available   Cons: Higher prices Having to remove and insert the cleaner from the pool when needed Might be excessive for your size pool       So now that you know the pro and cons of the various pool cleaner types. Which pool Cleaner should you purchase?   Here are a few questions to ask yourself before making your purchase.   Are you looking to replace or upgrade? What do you dislike about your current cleaner? What features do you like about your current cleaner? Are you tired of a high energy bill? What is your budget for a new cleaner?   Need more help? We would love to help you choose the right pool cleaner. Feel free to contact us via phone (09)391-0002 or by email chris@crystalclearpools.co.nz