Description
Thermal Blanket
How it works
– thermal blanket covers float on the pool surface. The closed cell foam core creates an insulating layer which traps heat in the pool.
Applications
– the heavy duty duokote is suitable for both commercial and residential pools
– the duokote's superior heat retention make it the preferred option for heated pools
– duokote's durability make it the preferred option for schools and commercial applications
Construction
– a layer of closed cell foam laminated between two sheets of woven, p.e. film
– the p.e. film is u.v. stabilised and formulated specifically for the harsh pool environment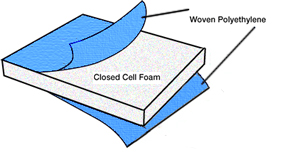 Cover care
– never shock dose the pool while the cover remains on
– never dose the pool with algaecides while the cover remains on
– using a reel will extend the life of the cover
Faq
what is the life expectancy of a duokote cover ?
– approximately 8 years subject to customer care
how effective is a duokote cover at retaining heat ?
– duokote has a thermal resistance (R) value of 0.094 and virtually eliminates evaporation. this enables a duokote cover to save up to 70% of the pool heating energy requirements
what colours are available ?
– sky blue, royal blue, grey and black
do I need a cover on an indoor pool ?
– yes – covers significantly reduce indoor condensation as well as saving heat loss
Warranty
3 year warranty
covering faulty material and workmanship on return to factory basis
for a printable warranty and cover care page go to….
Prices
duokote thermal blanket
$ 60.00 per square meter.
price includes g.s.t.
 price excludes freight and installation